Discover jazz piano secrets & start sounding like a professional today!
Are you tired of playing overly simplified jazz piano arrangements?
Most jazz piano books simplify their arrangements, making them easy for beginners to play. There's a big difference between the music in most jazz piano books, and what a professional jazz musician actually plays.
In my early days of jazz discovery, I searched endlessly for sheet music which notated an authentic jazz arrangement – note for note. I would buy sheet music online, only to feel disappointed when I opened the book and saw basic 4 note chord voicings, which I knew would not create the sophisticated sound I was after.
More than 10 years on, I still remember that feeling. Now that I'm in a position to help others discover jazz, I've created the Jazz Hero Piano eBook Series – presenting jazz piano compositions of my own. Each piece provides the aspiring jazz pianist with everything needed to recreate an authentic sounding jazz performance. Lush voicings, sophisticated jazz licks, intriguing endings – every note, articulation, dynamic and pedal marking has been meticulously transcribed, and presented clearly in an easy to read ebook format.
The Complete Collector's Edition presents all compositions from the series in one book, showcasing a range of jazz styles from around the world. This book is rated as intermediate level – ideal for anyone able to read music, and who has 6+ years of piano playing experience.
| | | | | |
| --- | --- | --- | --- | --- |
| Song Title | Style | Level | Description | |
| Afternoon in Rio | Bossa | Advanced – frequent chord changes | Upbeat Latin jazz for a sunny afternoon | |
| Dancing With You | Waltz | Intermediate – some sharps and flats | A sophisticated waltz in G minor | |
| Night at the Lounge | Bossa | Intermediate | A late night Bossa Nova in C minor | |
| Falling in Love for the First Time | Ballad | Intermediate | An emotional composition featuring Kenny Barron voicings and the lydian mode | |
| Cuban Quarter | Cuban | Advanced | A popular Cuban style featuring block chords and montunos | |
| Venice Beach in Winter | Ballad | Intermediate – some leaps | Slow things down with this quiet introspection | |
| Voodoo Dancer | Fusion | Advanced – rhythms in 3/2 time | Features crushed Latin rhythms and phrygian sus chords | |
| Autumn Colors | Lounge | Intermediate | An emotional jazz waltz featuring spiraling leaves and cluster chord voicings | |
NEW! For a limited time only, buy the Collector's Edition ebook and get 'Blue Lotus' included free! Blue Lotus (retail price $9.99) is a latin blues in A minor, and comes with 2 transcribed solos, a complete recorded performance, and mp3 backing track.
The collector's edition ebook comes with an entire audio album, so that you can listen to performances of each piece, learn rhythms by ear, and bring your playing to life with my play-along backing tracks – now you can perform with a live rhythm section, and master improvisation the smart way!
Not only do you get an excellent product at a discounted price, but your purchase directly supports the making of future videos.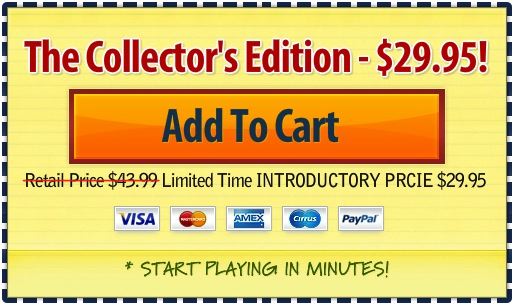 This is digital download (not a physical book). Once downloaded you can print the book to paper, or read from a tablet computer. Your purchase directly supports the making of jazz tutorials and makes future video making possible.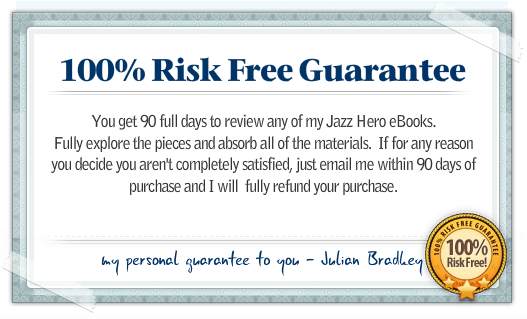 That's right! Either you benefit greatly from my sheet music and love my book, or you don't pay a cent. If for any reason you're less than satisfied or this book is not right for you, just reply to your confirmation email within 90 days with the word 'refund' and I will bend over backwards to refund your money – hassel free, no questions asked. I would rather you try the book and get a refund, than not try the book at all. So take the Jazz Hero test drive on me!
TESTIMONIALS
'I just couldn't handle it. I purchased your collectors edition. Each of your pieces never fails to give my ear continual interest throughout.' Richardo Novaro
'No words to describe how beautiful this is… Great work mighty scholar!' Aaron White
'it's like a direct access cheat sheet to the knowledge that you have in your head about chords and scales which a player of my standard would have to spend a lot of time looking up!' – Chris Sibley
'Julian, I am honestly blown away. The attention to detail in this book is beyond any other piano book I've bought.' – Hamel Sthankiya
'Julian…love this book…in SPADES!!! Just what I need!' – Ricardo Hernandez, Guatemala
'Julian Bradley's "Jazz Hero" books are the perfect tool for learning the art of Jazz Piano.' – Brandon Caruso
'…the brief guide to reading music section is excellent, its a quick reference for anyone attempting to play the piece.' – Tom Wanyoni
'GRACIAS BRO… ES FANTASTICO, TOCAS FABULOSO FELICITACIONES DIOS TE BENDIGA!!!!!!!!' Carlos Garcia
'The only thing more genius than this piece is the title you've given it. Fits perfectly.' (Voodoo Dancer) Vincent Gottum