Discover Jazz Piano Secrets And Start Taking Your Playing to the Next Level Immediately with the

Jazz Hero EVERYTHING BUNDLE:



Get 5 of my most popular ebooks in one download, at a discounted price (limited time offer):
100 pages written content | 60 pages sheet music | 40 mins of audio:

HERE'S WHAT YOU GET: 

Normal pricing when bought separately
Jazz Theory Explained ($39): my written book on jazz theory. I cover all tonal aspects of jazz including jazz scales, improvisation, embellishment, chord voicings, reharmonization, basslines, world jazz styles like bossa nova, and cuban salsa – and much more.
Collector's Edition ebook ($29): 8 jazz piano compositions of my own. includes 'Falling in Love for the First Time', 'Dancing With You', and 'Venice Beach in Winter'. Comes with mp3 recordings of my performances and backing tracks to play to.
Merry Little Christmas ebo

ok ($9.99): my Christmas carol jazz variation (Everything Bundle only).
Purchased Separately = $97   

Purchased Together = $67

  (save more than $30).
– limited time offer –
PREREQUISITES:
The 'Everything Bundle' is for piano players with 5+ years playing experience. Reading music is necessary.
RISK FREE:

As always, you can try my books risk free for 90 days. If for any reason they're not right for you (not right for your level, etc), let me know and I'll be happy to refund your purchase. I'd rather you try the books, than not at all: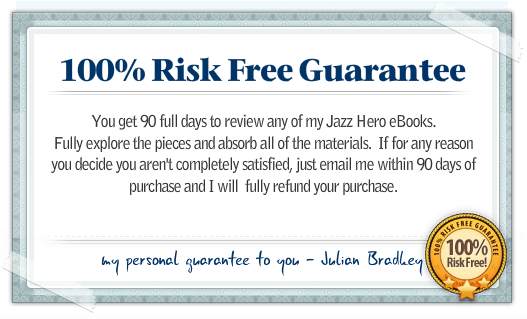 Or you can browse the rest of the site and buy any of my books individually.
All purchases directly support the making of future videos which remain free
READER COMMENTS: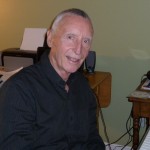 Ray Huckell, (Toronto): "When I decided to learn jazz piano 5 years ago, I searched high and low for a competent teacher who could lead me along the trail of developing a JAZZ SOUND. I lucked in to Julian Bradley on YouTube, watched every video he presented, made copious notes and went through the horrors of "oops, which video did he use to show his favorite major 7th voicing". All of that is in the past as Julian has now published the most understandable explanation of the complexities of Jazz Piano and Theory. Terrific and easy to understand, what every visitor to your videos is praying for – a true GOLDMINE!".
Steve Schneider, (US): "I am incredibly impressed with your easy clarity, your ability to convey complex material in an accessible and engaging manner, and your ability to focus on what's really important in a progressive and sensible fashion. I purchased your Jazz Theory Explained ebook and within 5 minutes knew that it was exactly what I've been looking for for years. Thanks for making all your hard work so accessible."
Mike Le, California: "I bought your ebook and loved it! So much valuable information with detailed explanation. Your book is worth every penny!!!"
Roger Price, Venice, California: "I waited weeks before writing this email, because I wanted to see if your jazz theory book would clear up years of jazz theory confusion and frustration for me. Well, I'm happy to report that it has and thanks for including your performance tracks and backing tracks. After reading your jazz theory documents, from cover to cover, I'm now able to practice "Dancing With You" on my piano […] Thank you so much!"
Ed Marsh, Oakland, California: "Hey Julian, The book is fantastic! I have been taking "expensive" Jazz Piano Lessons for almost three years. My playing has greatly improved and I am enjoying the lessons, BUT I gained tons of "understanding" from just reviewing, what I thought I understood and reading the first sections of your e-book. Keep the e-books coming!"